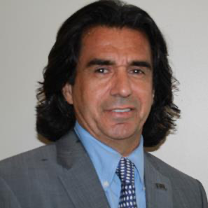 Atorod Azizinamini, Ph.D., P.E.
Director, Preeminent Institute for Resilient and Sustainable Coastal Infrastructure (InteRaCt)
---
Other Titles: Director, Moss School of Construction, Infrastructure and Sustainability; Director, Accelerated Bridge Construction University Transportation Center (ABC-UTC); Vasant H. Surti Professor of Civil Engineering; 2015 White House Champion of Change: Transportation Innovator
Bio
Dr. Atorod Azizinamini has devoted his career to developing solutions for the challenges facing the nation's transportation infrastructure. As the principal investigator of the Transportation Research Board of the National Academy of Science Foundation project, SHRP2 R19A, he led the development of the first and most comprehensive manual worldwide — "Design Guide for Bridges for Service Life" — that offers a systematic framework to design new and existing bridges with durability and sustainability in mind. He is also the developer of the revolutionary Folded Steel Plate Girder Bridge System that is now being used across the U.S. to replace sub-standard short span bridges. He is the recipient of numerous awards for his many contributions to bridge engineering and was recognized in October of 2015 by the White House as a White House Champion of Change: Transportation Innovator.